Serge Humbert-Droz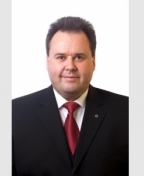 Serge Humbert-Droz
Managing Partner
Basierend auf Mehrfach-Ausbildungen und langjährigen Erfahrungen in den Branchen Maschinenbau, Banken (Core Banking), General Insurance und Informatik mit Spezialisierung auf Software biete ich meinen Kunden und Kandidaten ein vielfältiges Dienstleistungs-Portfolio mit Praxis-Nähe. Schwerpunkte in meiner Karriere waren stets Business Development, People Development, Management Consulting als auch das Leiten von mittleren und sehr grossen mehrjährigen Business- und Technologie-Projekten. Als Managing Partner bei oprandi & partner konzentriere ich mich auf komplexe und anspruchsvolle Rollen und Profile von Fachspezialisten sowie Führungs-Persönlichkeiten bis in die Top Unternehmensspitzen. Aufgrund der 3-Sprachigkeit in Deutsch, Englisch und Französisch habe ich bereits vielfältige internationale Mandate erfüllen dürfen.
I am looking for following candidates qualifications and experiences
Top-Management, Führungskräfte und Fachspezialisten ab Maturitätsstufe Fachhochschule
My work domain
Regions
German part of Switzerland
Region of Zurich / Schaffhausen
Mittelland (AG / SO)
Region of Bern
Region of Basel
Central Switzerland
Western Switzerland
Region of Vaud / Valais
Sectors
Banking/Financial institutions
Building trade/Real estate
Consulting various
Information technology/Telecom.
Legal/Business advice
Fields of Activity
Commercial
Finance / Trusts / Real Estate
Banking / Insurance
Technical
Information Technology / Telecom.